Pillars of Success
The Pillars of Success concept was developed by Renovo Partners through extensive research and proven techniques.  The concept focuses on the six core areas an insurance agency should concentrate on when looking to develop a business strategy, implement the plan, and manage the execution.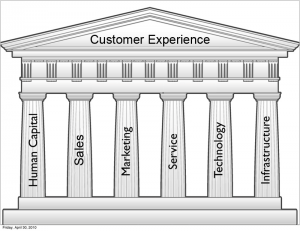 Human Capital: Acquiring, developing and retaining the right employees is the life blood of any organization. Human Capital encompasses all aspects from the hiring process to the retention of key employees, and everything in between.
Sales: All elements of a complete sales process – customer experience moments, key agency activities, sales concepts, and the consistent execution of the process. This all leads to more efficient and effective sales results.
Marketing: From strategic to tactical marketing, this area is complex when trying to truly understand what works and why. From branding and market positioning of your agency, to the campaigns and market efforts that drive sales, marketing requires careful planning and a willingness to explore.
Service: Determining the right service model that provides you control in managing customer relationships, while servicing clients how they demand, can be a challenging problem. Your ability to focus on the key service activities, and leverage support and mulitple access points, is key to winning the service experience battle.
Technology: enables everything! Agencies today are looking for solutions to improve productivity, reporting, sales and customer experience. Determining the right technology solutions can sometimes seem like an endless maze.
Infrastructure: refers to all areas of support to run your agency. This includes the core functions such as:  accounting, cash management, financials, workflow, and operations management. It also contains business strategy, planning, and workplans. Easily the most overlooked area.